"Optaccess" delivers easy handling and various fiber arrangement.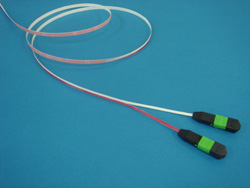 High flexibility for short length optical connection

Good mechanical properties to distortion and bending
Low curling tendency and good wiring workability

Available with grass fiber, plastic optical fiber and special fibers(125 φ etc..).
Available for using low molecular siloxane vaporization type sillicone rubber in stead of normal sillicone rubber.

Ribbonize optical fiber codes.
You can prevent incorrect wiring High-density type is ribbon fiber of any numbers by branched.


Optical fiber shuffles
Optical fan-outs or dropping cables branching at required positions
Flat bundles of dozens of optical fibers

Test
Condition
Performance
Twist Test
Incremental twist by 180°
(JIS C 6838)
22 times
Flex Tst
180°
30mm radius
No physical damage
Optical loss change < 0.1dB
Removability of coating
100 times
good
Temperature-Humidity Aging Test
85゜C、85%RH、2000hr
No physical damage
Optical loss change < 0.001 dB/m
Temperature-Humidity Cycling Test
-40 to 70゜C、up to 80%RH、 200 cycles
No physical damage
Optical loss change < 0.003 dB/m
Data in this table are measured values in our measurement system, and not guaranteed values.
The contents in this table may be changed without notice as a result of product improvement.

Branching at any position in available.
Fan-out type branching at any position in work sites is also available.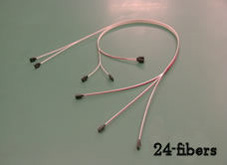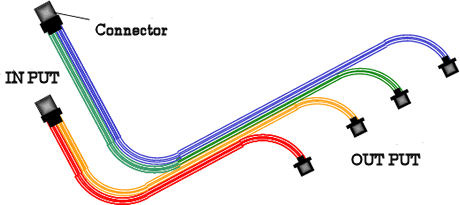 Aveilable from two-fibers to over 100-fibers.
You can make your thinking count ribbon fiber by branching from this high-count type ribbon.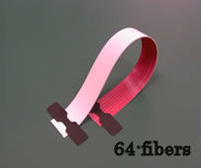 More efficient in the installation process.
We can castomize your request.
You don'tworry about optical loss cause of drawing optical fiber with regularity in the area of the shaffle.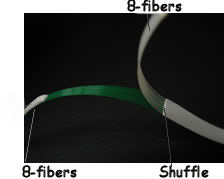 We can change the pitch conversion between fibers.
You can set our ribbon fiber into V groove cause of sillicone rubber streching.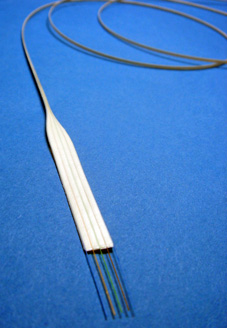 TOMOEGAWA CO., LTD. OPTO LEAF

7th Floor, KYOBASHI TRUST TOWER 2-1-3 Kyobashi, Chuo-ku, Tokyo, Japan

Inquiry Form