Fit Well is a refractive index matching film used for optical connection.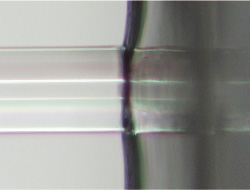 Compared to the current refractive index matching materials, film type matching material ''Fit Well'' has these distinguished features.
No flowing out and no pollution
Easy in supplying prescribed volume to optical fiber edge and ferrule surface
Excellent in handling
Strong adhering to optical fibers and ferrule surface
Possible to hold optical connection stable


【Applications】

optics ( ex.optical waveguides) connection or edge protection
You can select three type Fit Well Sheet for your particular needs and applications
| Type | FW1-20 | FW205-0515 | FW208-1010 |
| --- | --- | --- | --- |
| Adhesive | Strong | Weak | Non-adhesive |
| Repeatability | NO | OK | OK |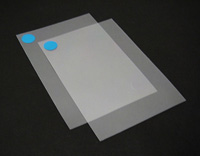 【Applicaiton】

optical fibers connection or optical fiber's end protection
You can put on Fit Well only to the edge of sillica bare fiber.
You can insert the fiber into a hole or V groove,easily.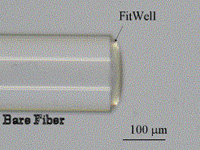 【System】Fit Well application system for connector manufacture
・
This system is composed of specialized Fit Well dispenser device and driving software,
  and designated Fit Well solutions.
【Features】Comparison vs Gel type connector
☑ Improving data transmission stability
☑ Repeatability of connection on site which reduces error rate of on site connection
☑ Improving durability of fiber connection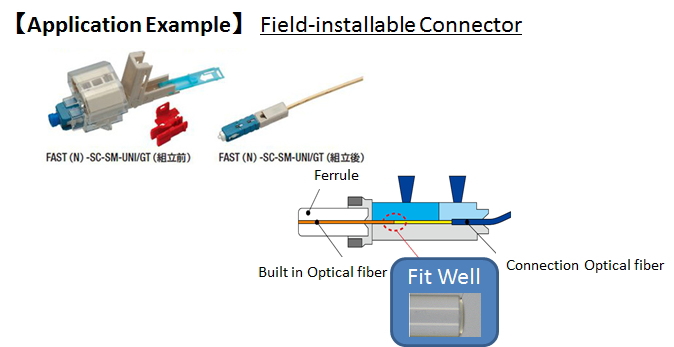 * The pictures of connector example are provided by courtesy of Fujikura Ltd..


Attaching Fit Well to bare fiber
28sec wmv 749K
please crick the picture

【Applicaiton】

Optical fiber connector(MT,MPO,MPX,SC,LC etc..) ferrule.
Pieces of Fit Well previously cut in an each connector's size.
Easy handling to attach Fit Well to connector's end face.
Stability the condition of optical connection.
Repeatability of inserting and removing.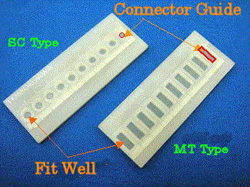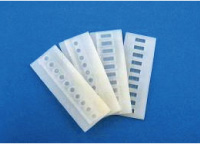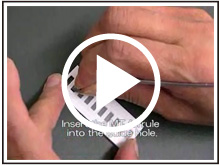 <Example> Fit Well put on to MT ferrule
61sec wmv 1.79M
please crick the picture

Test
Measuring Condition
Result
Insertion Loss(1550nm)
SC Connector Connection
Insertion Loss:< 0.10dB
MT Connector Connection(8 Optical fibers)
Insertion Loss:< 0.15dB
Return Loss(1550nm)
SC Connector Connection
<-40dB(-40~80℃)
MT Connector Connection(8 Optical fibers)
<-40dB(-40~80℃)
Temperature cycle test
Temperature range:-40℃~80℃
500 Cycles(SC Connecter using)
Loss Change < 0.05dB
High temperature and High humidity aging test
85℃85%RH 1000hrs
(SC Connecter using)
Loss Change < 0.08dB
Conditions:Single mode optical fiber used. Film thickness 25μm.
Data in this table are measured values in our measurement system and not guaranteed values. They depend on optical fiber type and the shape of optical fiber edge.
The contents in this table may be changed without notice as a result of product improvement.

TOMOEGAWA CO., LTD. OPTO LEAF

7th Floor, KYOBASHI TRUST TOWER 2-1-3 Kyobashi, Chuo-ku, Tokyo, Japan

Inquiry Form